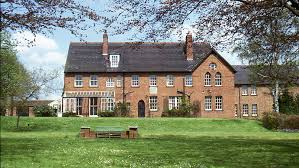 Wednesday 16th Ma
Sad times- our last day.
We all woke up a bit later today.! We had another fab breakfast and then had to pack and tidy our rooms. One girl - who shall remain nameless managed to forget to pack at least half of her clothes but finally got them sorted.
We took part in team games and bouldering today. Both were really good fun.
We have just got our farewell presentation left and then the long journey home.
A good time has been had by all.
Have a look at today's photos.
Tuesday 15th May
We all slept well, the boys woke up first and were all up and dressed by 6.45 - much to the joy of the teachers!
After an excellent breakfast, we set about our jobs and had some free time to explore the grounds. This morning we tried our hand at archery - we had some budding Robin Hoods and Katniss Everdeens. Shelter building was fun and some of us wanted to spend the night in our dens. This afternoon we completed a blind fold challenge and orienteering.
Another glorious day and some tired but happy children. We are looking forward to our campfire this evening.
Monday 14th May
We have all arrived safe and sound. After making our own beds we met our instructors and had a tour.
After lunch we took part in our first 2 activities, low ropes and caving. We were all brave and took part in all the challenges!
We have just had our evening meal and are currently doing our jobs.
Our activity this evening will be a scavenger hunt.